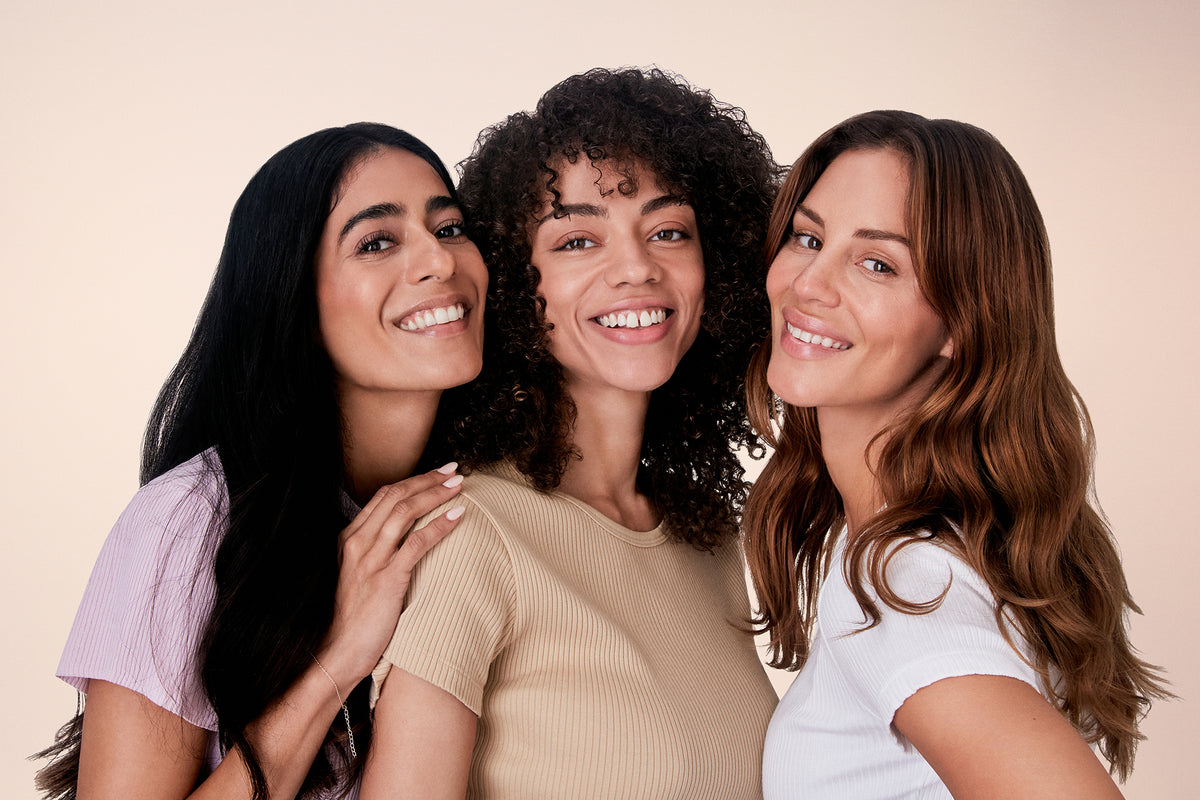 We've heard that hair styling can be a hassle, but we totally disagree! What we do know is that you always want your hair to look amazing. But looking great doesn't mean tormenting your locks by styling your hair until it hurts or damaging your scalp or strands in the process. 
Smarter styling solutions 
This seems like the perfect time for us to offer a gentle reminder (literally!) that all our products are sulfate free and safe for color-treated hair. More than that, all Not Your Mother's products are developed and formulated to pamper hair while helping you achieve the look you want. 
Whether you're ready to try out streaks or bubble braids or simply want ideas for quick hair styles, we've got you covered.  
Hair Hacks for Every Hair Type
We gathered some fun and easy hair hacks for every hair type, or simply for when you're in the mood to try something new. We also asked our team members and hair experts for their own top tips.   
Double up for multiple benefits:  
If you have several hair concerns, you might want to try more than one product. In fact, Sarah Kieny, our Director of Marketing - Media, suggests washing your hair twice each shower. She likes using Curl Talk™ Cleansing Oil for a deep clean with this pre-shampoo scalp cleansing treatment and then following up with a shampoo like Aquatic Mint and Coastal Sea Holly Scalp Refresh Shampoo for a really clean feeling. This double cleanse allows Kieny to only wash her hair once or twice a week. She said it feels like her hair "stays fresher longer this way, too." 
If you're not sure how to create your own doubled up formula, think about your hair types. For instance, if you have oily hair with dry ends, you might use a deeper cleaning shampoo on roots and then rinse through with an extra dose of conditioner. 
Pat your hair to help it air dry 
We've noticed that far too many of the air-dry hacks actually seem to damage hair, so we advise using the lightest touch possible and products that protect your hair. If you love the effect of air-dried hair, but still want to control frizz, have we got some tips for you! After you shower do not roll your hair up in a towel, but rather use a microfiber towel to blot your hair section by section and then continue to air dry. 
You can also use our Part Time™ Air Dry Accelerator to reduce drying time when air drying, or to add a bit of added heat protection when blow drying your hair.  
Pantyhose to Protect Your Blowout
Lourdes de la Cabada, our Director of Marketing – Social & PR, says to use pantyhose to help you keep your blowout perfect. Take a clean pair of pantyhose (the more worn out the better) and put it on your freshly dried hair and loosely twist it to the right or left depending on your natural part. Remove in the morning for perfect looking hair.  
Effortless Beachy Waves
Vicky, our Social Media & PR Coordinator, has a great hair hack for easy waves, here's how she does it. Before bed "spray Beach Babe® Soft Waves Sea Salt Spray through your hair." Vicky puts up her own hair up in overnight and wakes up to effortless waves.  
If you'd like extra waves, after you pull your hair into pigtails, split each pigtail into two sections then gently twist each section in opposite directions and then twist both sections together and secure with an elastic. Wake up to epic waves!  
Dry Shampoo for Post-Workout Hair
Your post-workout glow is amazing! Your sweaty, drippy hair is not. Riley Johnson, our Direct to Consumer eCommerce Coordinator, uses Clean Freak® Tapioca Dry Shampoo first thing in the morning. She also uses it after workouts to make her hair look and feel fresher. 
Pro tip: Dry shampoo is also a great way to refresh 2nd day hair. Hold the can 8-10 inches away and spray onto the roots for a fresh and clean feeling. 
Additional Hair Hacks
Sleeping on a silk or satin pillowcase can help reduce frizz. It's also great for your skin and can help reduce the look of laugh lines.

 

If you have curly hair, sleeping in a bonnet can protect your hair styles overnight.

 

Did you know that pipe cleaners can give you the look of a head full of curls? Gently twist one end of a pipe cleaner around a small section of your hair. Wrap your hair around the pipe cleaner and twist the end. Leave on your hair for a few hours and then gently unwind for fun '90s inspired hair! 

 

Wearing your hair in a loose bun can help protect styles overnight.

 
Products to Try
We've mentioned some of these above, but we also love finding multiple uses for our favorite products.