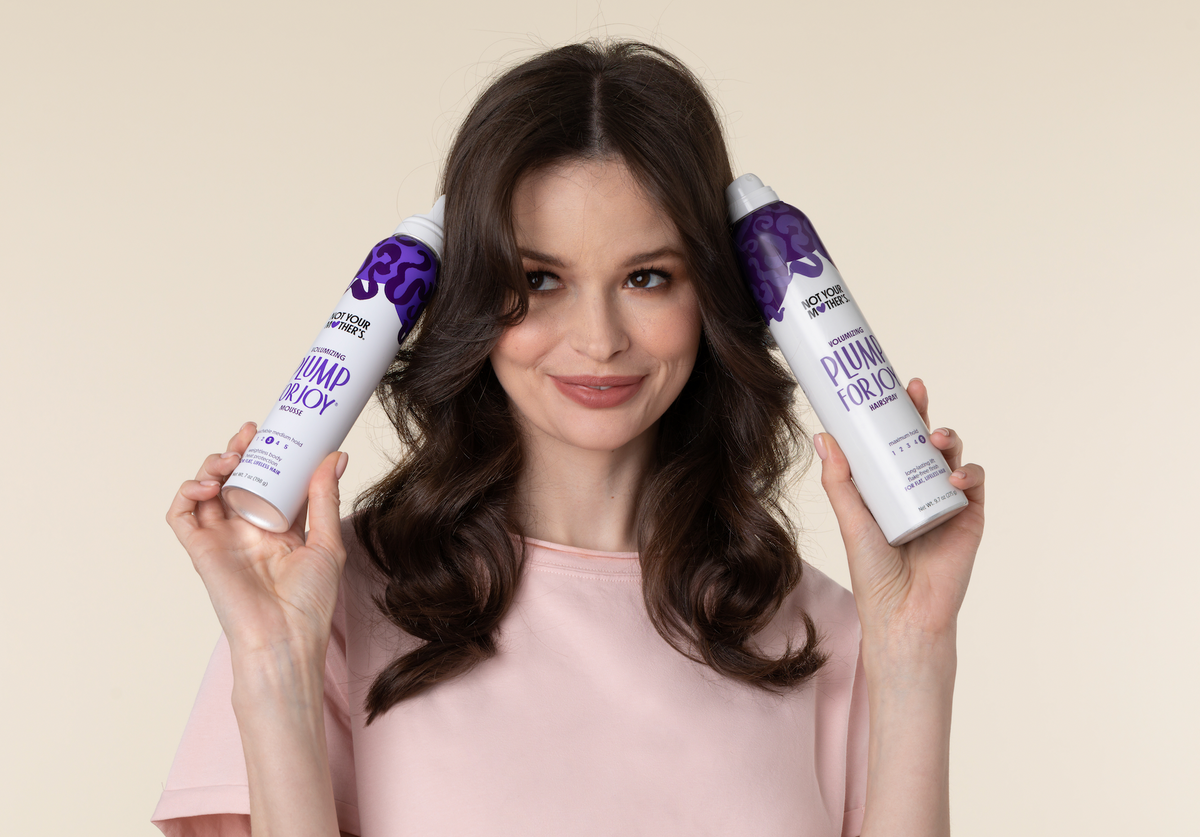 Holiday Hair 101: Hint – there will be volume
Whether you choose to wear a sparkly gold dress or toned-down pantsuit to your holiday party this year, your hair will be on display at all times – why not choose a standout look? If there's one thing that's constant from year to year (and decade to decade) it's that during the holidays, your hair takes center stage. And after spending so much time creating that perfect style, the last think you want is droopy locks.
We came up with some fun and easy ways to keep holiday hair looking perfect.
Use Mousse
No matter what your favorite hair styling tools are, they can be helped with a little bit of mousse. It's true! Modern mousse formulations are lighter and create touchable hold instead of that tacky feeling hair of old-school mousses.
Not Your Mother's Mousse collections are also created to target different types of hair.
NYM Activating Curl Talk Mousse was formulated for curly girls (and guys, and everyone in between!) to create and define curls. Did we mention the great bouncy hold it creates? After washing and blotting dry hair, shake can vigorously. Dispense product upside down into your hand. Unlike products that need a tiny amount, it's fine to use a golf-ball size amount of Curl Talk mousse. Starting at the roots, work the product through your hair, paying special attention to creating definition for your curls. Style as usual.
Curly pro-tip: Consider an up-do with a riot of curls by your bangs and some at the nape of your neck. Use a tiny amount of mouse and run your fingers through those kiss curls to create perfect definition. 
Related: Curly Hair 101: Identifying and Styling Different Curl Patterns 
Plump for Joy Volumizing Mousse It's no fun having fine hair around the holidays. While everyone is braiding and twisting their hair, those with baby-fine hair have a harder time creating complicated looks. Or at least they did before we formulated our touchable mousse that takes hair from flat and lifeless to poufy yet touchable. 
Mega volume/mega hold pro-tip:
While we wouldn't recommend this particular hair styling tip for every day, it's a great hack for creating a holiday style that lasts. Work about a quarter-sized pouf of mousse evenly through your hair. Allow it to dry. Before coming through or brushing, spritz your hairbrush with She's a Tease Volumizing hairspray. Instead of spraying roots or ends, you're encouraging your hair into the style and shape that will last all night. If your hair is too fine to brush, style your hair as you usually do. Then spray some She's a Tease Volumizing hairspray into the palms of both hands and gently rub product underneath your hair for added volume or on top of your completed style for extra hold. Remember to wash your hands thoroughly after styling or you'll end up sticking to everything!
Related: NYM Gift Guide: Our Top Sellers To Gift Yourself Or Your Loved Ones
A few extra holiday hair hacks:
Don't wash your hair before heading out. It may seem counterintuitive, but hair that's not freshly washed will actually hold your style better. If you'd like to really amplify the volume, try spritzing some Plump for Joy Dry Shampoo at the roots and then working through with your fingertips.
Braid and plait for extra texture. If your hair is long enough, braiding your hair the day of an event will leave you with gorgeous waves for your big night out. Use mousse to pull through the curls and waves, or hairspray for a stunning chignon or updo.
Sparkly bobby pins cover a number of (hair) sins. Still not sure that your hair looks party-ready? Add a few bobby pins with gems or sparkly detailing to draw eyes away from your part and more to your overall style.