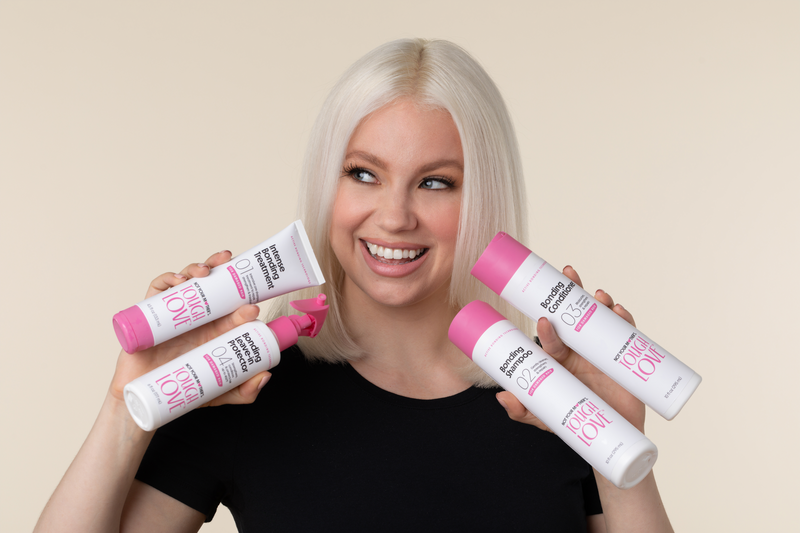 Has all that styling been damaging your hair?
Well, hello there Style Queen! We know that you spend a good portion of your life in pursuit of the perfect hair color and texture. That means you're probably spending a lot of time coloring your hair, trying chemical treatments, and hot tool styling. In fact, a poll of NYM users revealed that most of you used some sort of damaging treatment three or more times per week – that's a lot of potential damage!
Then again, maybe you're style conscious in an entirely different way. If this sounds like you, you prefer spending time on the style and texture of your hair over the dramatic effect. You might enhance your virgin hair with sleek ponytails or sophisticated buns. And while your look is more natural, the results are anything but boring.
No matter how you enhance or style your hair, you could probably use a bit more shine and strength. And even if you're not facing dryness, dullness, or frizz daily tugging or pulling your hair into those cute styles could be causing breakage.
So, what now? You definitely need some Tough Love.
Meet Not Your Mother's NEW Bonding Line: Tough Love
You've probably been hearing about bond building, bond maintenance, and bond repair products for the past couple of years. Or maybe your stylist and friends have been raving to you about how bond-building products make their hair look incredible. That's all well and good, but how are bond-building products different than other hair care products?
What do bond-building products do?
We'll make it super easy to understand since bond-building products can be a very complicated topic! Every strand of your hair is made up of teeny tiny chemical bonds which are invisible to the naked eye. Every time you color your hair, you damage those bonds. The same goes for twisting your hair into a ponytail. After a while, your hair can become so damaged overall that it becomes visible. Very visible. Bond products use amino acids to repair your hair and strengthen it from within so that all you see is bounce, shine, and volume. And in case you're wondering, like all NYM products, the Tough Love collection is vegan and sulfate free.
What's your love language?
Some of us show our love with a lot of touch and hugging. Others find that their love language involves homemade treats for their loved ones. At Not Your Mother's, our love language is pampering and beautifying your hair. And with the Tough Love bonding collection, we go a little deeper and work even harder to add sheen and strengthen your hair from the inside out.
The Tough Love product line

In case you're wondering, the entire Tough Love collection works with every hair type, so whether you're a curly girl or have stick straight hair, these products will improve the look and feel of your hair.

Here's a sneak peek of the product line:

STEP 1: Not Your Mother's Tough Love Intense Bonding Treatment:

This is the first step to repairing damaged hair. This intensive pre-shampoo treatment works with all hair types to repair, strengthen, and transform your hair!

How does it work?

• Instantly strengthens and repairs hair bonds after a single use
• The highest concentration of Active Bonding Technology
• Hair looks healthier, shinier, and smoother!

How do I use it?
NYM Intense Bonding Treatment is a pre-wash treatment, so you use it before shampooing your hair. Use every 3-4 washes. For super damaged hair use every 2-3 washes.


STEP 2: Not Your Mother's Tough Love Bonding Shampoo:

Now that you've prepped your scalp and hair, this shampoo for damaged hair gently cleanses, strengthens, and repairs your hair.

How does it work?

• Gentle enough for everyday use while thoroughly cleansing without stripping
• Supports hair repair while strengthening
• Gentle enough for everyday use. After each wash, hair feels smoother, stronger, and more hydrated

How do I use it?

1. Use as your everyday shampoo or after rinsing out the treatment. Lather and work into wet hair. Rinse thoroughly. Repeat as needed.
2. Follow with Tough Love Bonding Conditioner.

STEP 3: Not Your Mother's Tough Love Bonding Conditioner:
Your hair is clean, and your tresses are stronger. Now it's time for an active conditioner with multiple benefits.

How does it work?

• Gentle enough for everyday use and formulated to work with all hair types.
• Deeply nourishes for less frizz with increased shine
• Supports hair repair and strengthens
• After every rinse, hair feels smoother, stronger, and has more bounce

How do I use it?

1. Apply to wet, freshly shampooed hair and work through to ends. Leave in hair for 2-3 minutes before rinsing well.


STEP 4: Not Your Mother's Tough Love Bonding Leave-in Protector:

By now your hair feels amazing and you're ready for a power boost. Our lightweight Leave-in Protector works with all hair types to repair existing damage and strengthen and protect hair against future damage.

How does it work?

• Helps reduce breakage and split ends
• Enhances softness and shine
• Heat protection up to 450 degrees

How do I use it?

1. Spray on clean, damp hair from mid-length to ends, avoiding the roots. Use on dry hair to tame flyaways.
2. Comb through to distribute product evenly and style as desired.

So, what are you waiting for? We can't wait for you to try out the entire Tough Love collection. After all, we created it with you in mind!