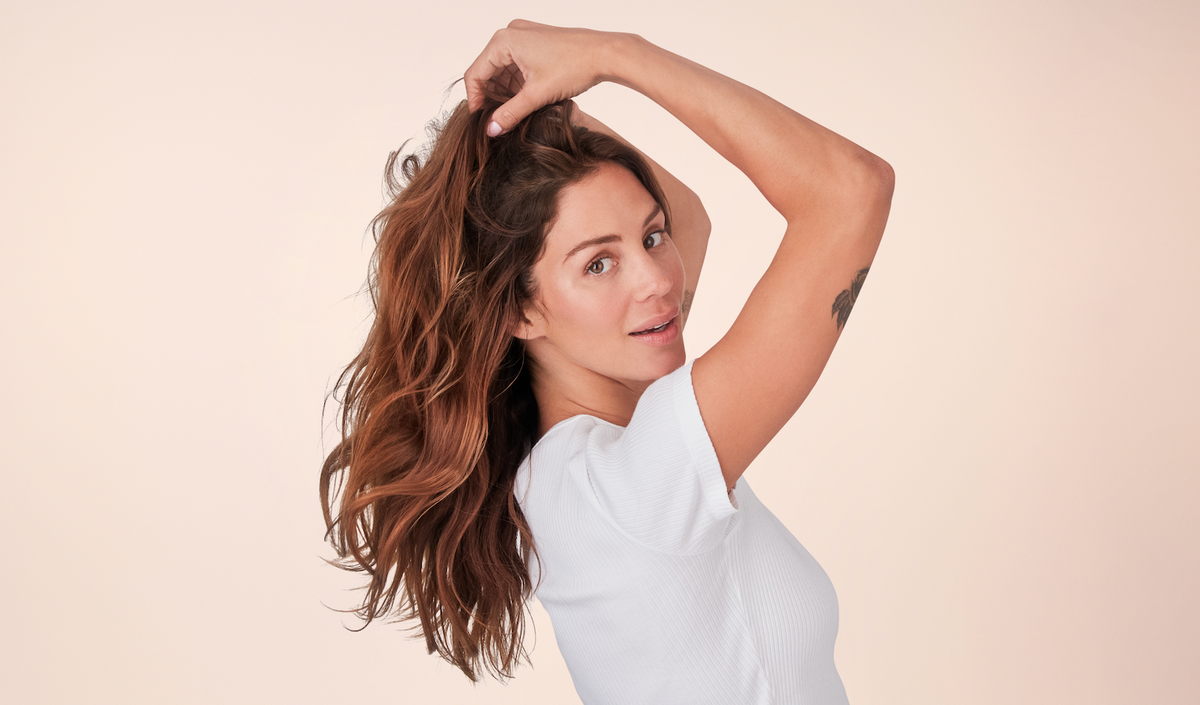 Summer Sun and Stunning Hair
Whether you're a curly girl, work your coils, or have pin-straight hair, this summer is all about embracing your natural hair texture. But what happens if you've always been plagued by frizz or unmanageable hair? Well, we can confidently confirm that your troublesome tresses will be a thing of the past!
We came up with some easy ways to style your hair to look super cute with a minimal amount of effort.
Try a grown-up glow up
The best part about natural hair is the fact that you can pair it with extremely subtle makeup. So, you can add a tiny drop of bronzer to enhance your sun-kissed skin, a bit of lip gloss and the tiniest bit of highlighter everywhere else (think below the arch of your brows, right above your cheekbones and even a bit highlighting your cleavage…if you dare).
As for your hair, this is a great time to go for a quick slick or slicked-back look. You can have a lot of fun with Not Your Mother's Beach Babe Texturizing Surf Paste, since it's strong on style, but gentle on hair.
Be playful with your part. Using a comb with a sharp styling edge, "draw" a part starting at your roots.

Continue as far down as it feels fun for you. Try for a small zigzag part or go all the way from your forehead to the nape of your neck.

This might seem a bit tricky, so experiment with the amount of paste that you might need. Slick a small amount on the pads of your fingers and work through your hair. The goal here is to either keep your hair sleek and in place, or to add volume, hold or control.

Here's an important tip to remember: Don't fight your hair. You may think this is a perfect day for cute pigtails with a perfect part, but your hair might have other ideas. Use our texturizing paste to enhance your hair style.
Even though summer is most often about casual clothing, there are times when you might be heading to a wedding or on a hot date. Those are the times you'll want to play up instead of playing down your natural assets.
Go Maximalist
If you've got it, flaunt it - even if it means learning to love your biggest possible hair. In other words, maybe this is the right time to lean into your natural hair texture and make friends with humidity.
A bit about humidity
Here's what happens when the weather is humid. In the same way that your skin might look extra dewy when it's humid because your skin is absorbing more moisture, your hair is kind of doing the exact same thing. Except where your skin might look glowing, depending on how porous it is, your hair might look a bit poofy. We don't necessarily think that's a bad thing.
In fact, we admire the way Halle Berry and Kerry Washington seem to be always playing around with hair texture going from tame waves to over-the-top curls.
Give waves or curls a whirl
There are few things as sexy as fresh from the surf-tousled waves. If you don't plan on going for a dip though, we can think of a few ways to instantly fake it. And as a bonus- you don't even need shower-fresh hair for this style.
Spray Beach Babe Sea Salt Spray onto dry hair, starting about an inch or two below your roots.

The formula was designed to add texture, so be sure to really work the product through your hair and scrunch it into waves or curls

Feel free to use a diffuser attachment on your blow dryer or allow hair to dry naturally.
Add some sizzle to your style!
If you're heading out (or staying in!) try a half-up/half-down hairstyle.
Gently pull the top third of your hair up into a loose ponytail

You can then create a bun out of the small ponytail or leave it as is

Following the steps above, work product through both sections of hair creating waves as you go

Gently pull a few tendrils out near your temples for a slightly undone effect.
Sunday Funday (Sea Salt Spray for Soft Waves Day)
During the summer you really don't want to make your hair care routine a full-time thing. For lazy days, we suggest soft waves instead of a major styling challenge.
Not Your Mother's Beach Babe Soft Waves Sea Salt Spray enhances what you've got instead of changing your look. And like almost all products NYM makes, it's also vegan, gluten-free, sulfate surfactant-free, paraben-free, phthalate-free, and enriched with natural ingredients – in this case, actual sea salt! 
Simply spray onto wet or dry hair (skip your roots so hair isn't weighed down) and allow to dry naturally for effortless waves.