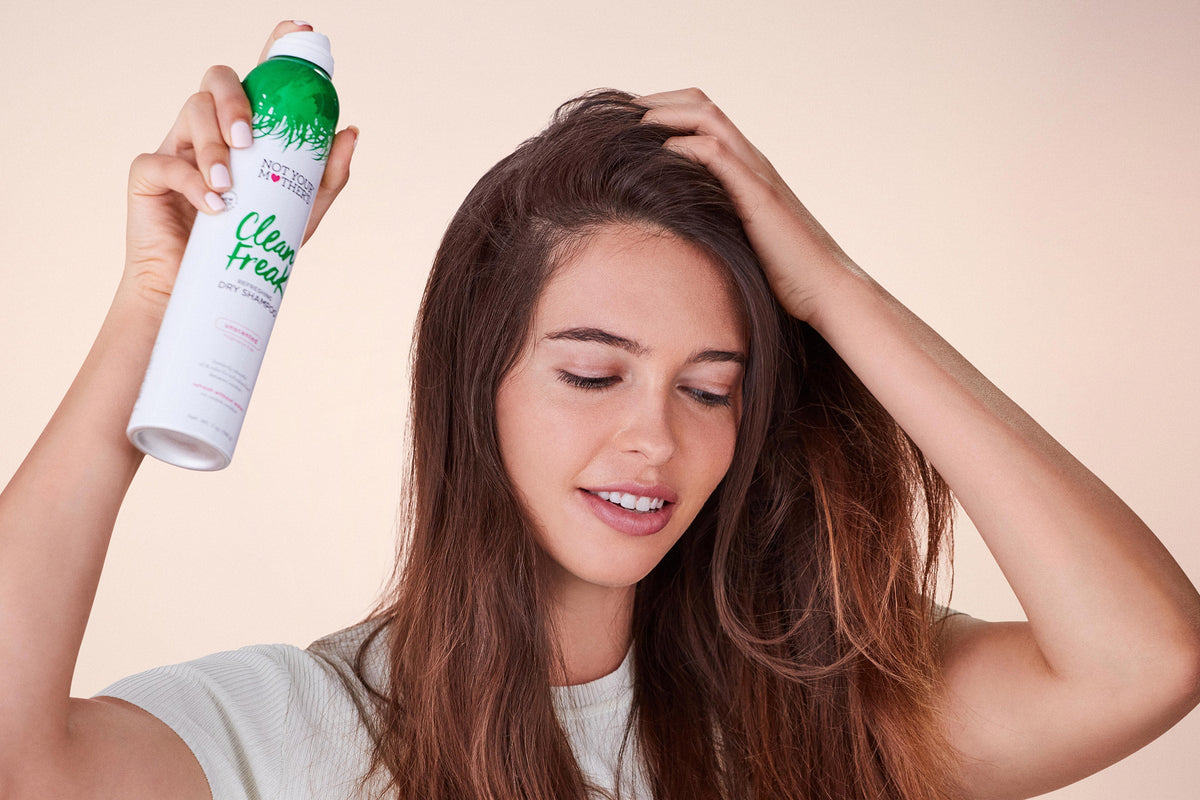 I love my oily hair! (Said no one ever).
While there are worse things in life than having a bad hair day, right now we can't think of them. And when you're plagued by greasy hair, it can be hard to feel as stunning as you actually are.
We promise to keep your secret that your slicked-back hair and messy buns disguised your oily hair all summer. The problem is that won't work quite as well when you're away from the beach. Fall weather and back-to-school/back-to-work mean more face-to-face time with people, making camouflaging greasy hair a bit more difficult.
Before you give up on gorgeous hair, read on. We gathered a few tips and tricks, along with some of our favorite products, to help you manage your oily scalp year-round.
But first, let's learn a bit about the causes of oil production that lead to those lank dank locks.
What causes oily hair anyway?
Oil on hair is, in theory, a good thing according to our in-house chemist Madison Keene. "At your scalp, your follicle produces both hair and sebum (AKA oil). This sebum works its way down the hair shaft, adding shine and lubricity to strands," Keene said. So, wait, that's a good thing? Sort of. In moderation, the oils in your scalp can make your hair look great. It's the overproduction of oil that makes it all a bit more complicated.
"When too much oil and other products are present on strands, that's when we call hair oily," Keene added.
When too much oil and other products are present on strands, that's when we call hair oily.
So how can you fix the look of greasy hair? Keene said that it's all about balancing the amount of sebum your scalp produces with the products you use and what they leave behind between washes. Speaking of washing your hair, be sure not to overdo it since not enough oil can also lead to issues.
Are you doomed to have oily hair for life?
In a word, no. Keene reassures us that just because your hair is currently oily doesn't mean it'll always be that way forever. "Hair with too much oil can be combatted by changing up products." And while you're at it, pay attention to how long your hair stays shiny in a good way between washes. Keene said that your scalp is an extension of your skin (which goes through phases of being more or less oily) and may change over time or depending on the season. So that extra oil you have right now might not be around forever.
Let's clarify things...
If you prefer a simple approach, Keene offered her top tip for greasy-haired girls in search of a solution. "Try implementing a clarifying shampoo, like our Naturals Activated Bamboo Charcoal and Purple Moonstone Clarify and Detox Shampoo, once a week." And if you use conditioner, keep it away from your scalp and concentrate on the bottom two-thirds of your hair.
A fresh start
Ready to hit reset on oily hair? Keene advised trying one new product at a time until you achieve the level of lubricity/shine/volume that you desire. And since there's no one-size-fits-all routine for oily hair, try experimenting with the formulations and routines that work best for your hair.
There's fun in figuring it all out!
Our Oily Hair Top Picks
We developed a few products just for oily hair to ensure gorgeous hair is within reach. In fact, we spent years crafting, testing, and perfecting these formulas to help your hair look amazing -- even in between shampoos.
Dry shampoo 101
If you're wondering where to begin, try a dry shampoo, which is almost like a shampoo/hairspray hybrid. Ingredients in dry shampoos seem to act like teeny tiny invisible sponges absorbing excess oil while also adding life to your hair. And since oily hair can also look limp, we often recommend using our dry shampoos for a bit of extra oomph.
Clean Freak® Refreshing Dry Shampoo: We're proud to admit that some of our most loyal fans have declared our original formula to be downright iconic? We're inclined to agree. This salon formula dry shampoo absorbs oil and refreshes your look between shampoos.
Beach Babe® Texturizing Dry Shampoo: Whether you prefer beachy waves or perfectly braided hair, this adds a bit of grip and a care-free look to even the flattest hair.
Plump For Joy® Body Building Dry Shampoo: Keep a bottle in your desk drawer or gym bag. Apply generously to your roots for the look of a fresh blowout even days later.
Ready for a deeper clean? We love the fresh smell of Aquatic Mint and Coastal Sea Holly Shampoo and the way it leaves your scalp tingling just the slightest bit. It also removes build-up, so you won't be stuck with all that hair spray from your last big night out.