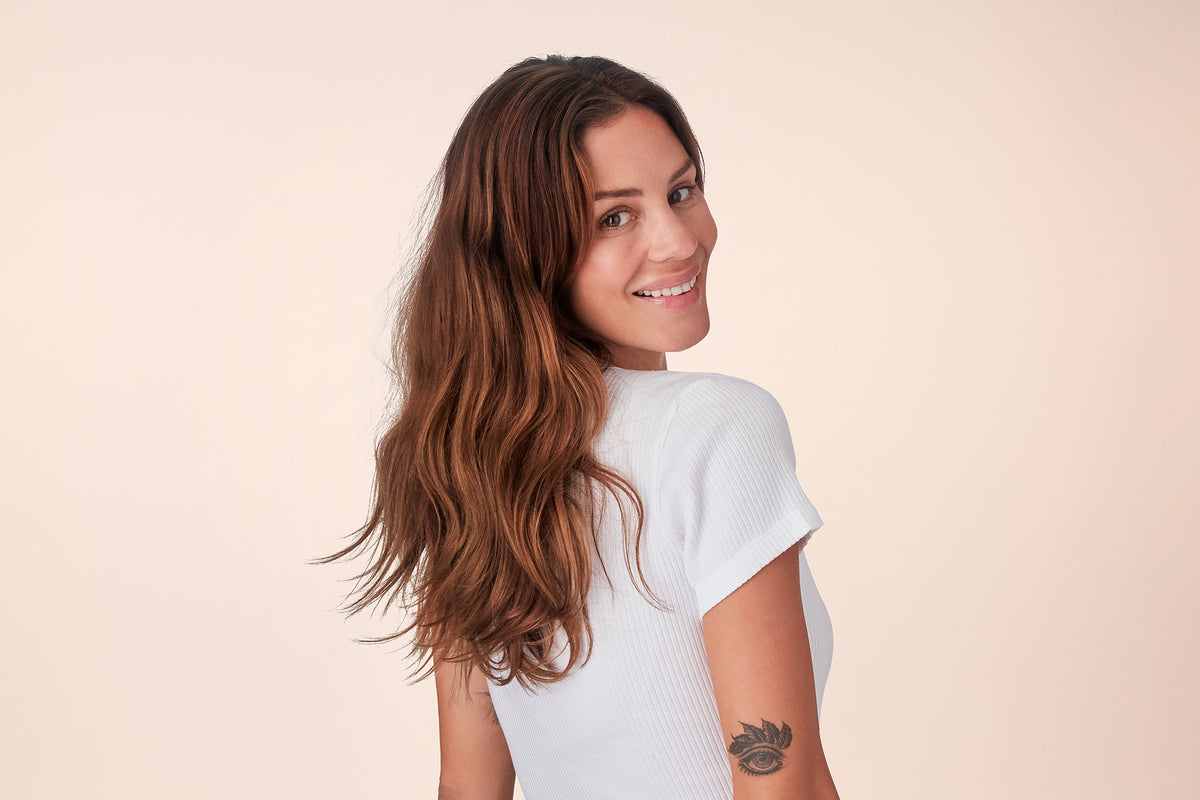 Date night can be a great way to have fun and enjoy a romantic night whether you're going out on the town or staying in for takeout and a movie.  It can also be a great time to experiment with fun new styles!
You do you on date night
On date night, you can dress sexy or sporty depending on your destination – even if your destination is date night in together on the couch. And whatever your mood, date night hair can be anything from a complicated updo to touchable and tousled.
Love your partner, love your hair!
We thought the Valentine's Day season would be a great time to share some tips on easy DIY date night hairstyles. Even if you're not in love right now in the traditional sense of the world, it's always a good time to find new ways to love your hair. Best of all, all Not Your Mother's products are color safe, sulfate surfactant free, and paraben free, so you pamper and protect your hair while you primp.
Ready for some cute date night hair ideas? Read on for date night hair inspo.
Volume without effort: No time to wash your locks? No worries. If you're so busy with work or  kiddos and deadlines and everything else that keeps you from a perfect 'do, we have a great tip for perfect date night hair. Even if your hair is baby fine, Plump for Joy® Thickening Hair Lifter offers loads of volume and a quick hair fix. Simply divide your hair into a few sections, spray a small amount into your palms and rub hands together. Use the pads of your fingers to distribute product wherever a little extra volume is needed. Instant volumizing with barely any effort.
Double date babe: Is it terrible to want to spend a bit extra time on your locks before heading out on a double date? Of course not. Which is why we suggest prepping for your blowout while adding a boost of body and loads of shine. Spray All Eyes On Me™ 10-in-1 Hair Perfector (which also acts as heat protectant spray and detangler) on just toweled dry hair and then loosely comb through. Blow dry as usual paying extra attention to the ends for a smooth professional blowout look. Or gently wrap sections around a curling tool for long, loose waves. Bonus points if you add a sparkly hair pin near your part. 
Pro tip: For perfectly polished, glossy hair, apply a small amount of our Smooth Moves™ Anti Frizz Shine Serum to moisturize split ends and tame flyaways as a finishing touch to your sleek, swoon-worthy hairstyle.
The bare minimum: While celebrating with your besties is the best part of Galentine's Day, it also means you can spend a bit less time on your grooming the next day if you so choose. Second day hair, anyone? Even if your hair is a bit greasy from your most recent gym sesh or girls night, use a bit of dry shampoo and your hair can look awesome in moments. We've seen celebrities use dry shampoo to amp up their glow before going out.  Here's our version. Grab a bottle of Clean Freak® Tapioca Dry Shampoo and shake it like you mean it. We love dry shampoo because all you have to do is spray onto roots and then massage or brush through. If you're feeling inspired, try braiding a few tiny sections of your hair for added interest.
Beachy waves set the mood: Trying to act flirty without actually flirting? Beachy waves work great on nearly any hair length and let your date know you're feeling playful. Remember using actual sea salt to create a sea salt spray in the hopes of mimicking that sexy, perfect, beachy look? We recreated that effect in Beach Babe® Texturizing Sea Salt Spray to help you achieve perfect textured waves. A texturizing spray works a bit differently than some stylers and can be used on wet or dry hair. Spray at mid-length instead of near the roots since you're going for a matte and easy texture rather than shiny and just done. Experiment with creating a few loose waves near your face by rolling and pinning small sections and then unpinning them before you head out. Use your fingers to comb through waves.
Cute updos for curly girls: Curly hair is having a moment and we are here for it. Blow dry your hair using your diffuser to achieve voluminous and gorgeous curls. Use a dab of Curl Talk™ Frizz Control Sculpting Gel (put some in your palm and then rub palms together to distribute evenly) on individual curls to enhance your defined curls. Or try a curly updo. Loosely pin hair up near the crown of your head. Pull out a few individual curls at the nape of your neck and one or two kiss curls near your forehead and temples. Since this hair gel is flake free, you can experiment with how much product you need to create your perfect date night look.