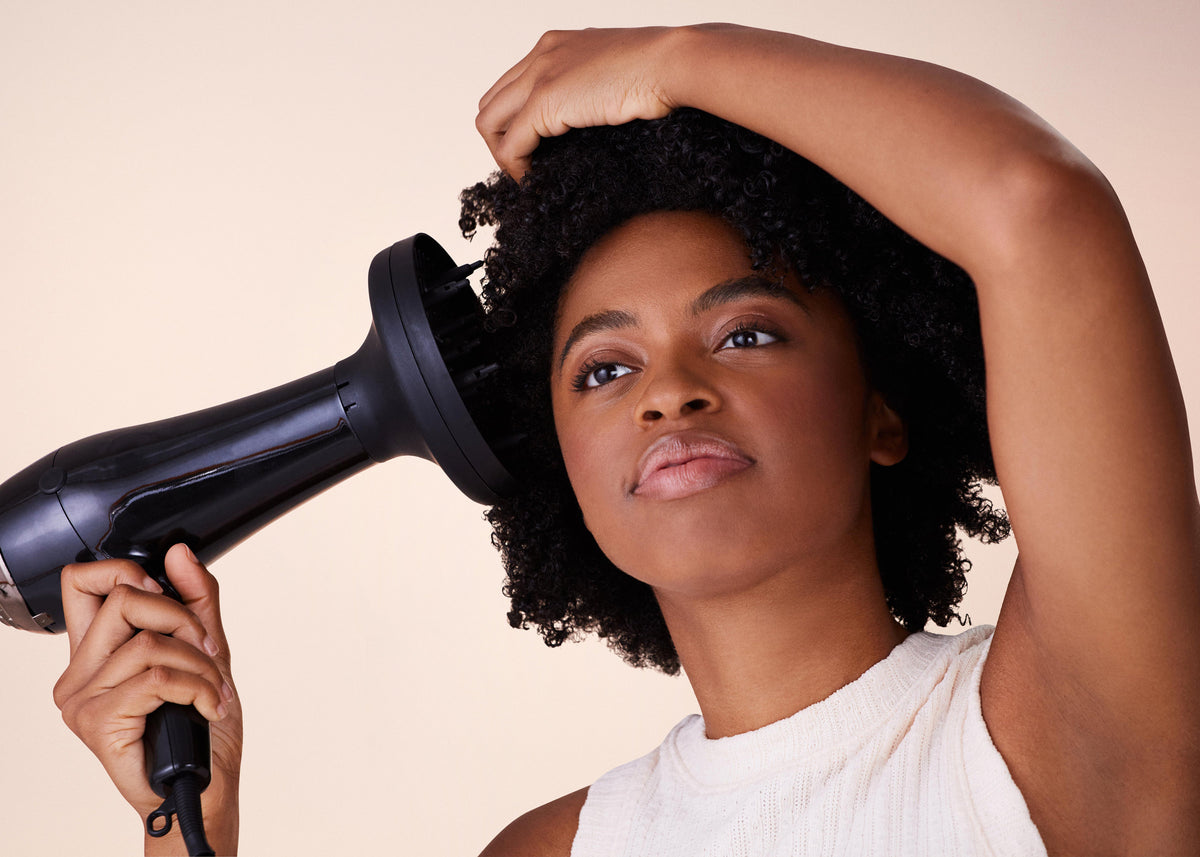 Nearly anything goes for hair these days—sleek locks, wild curls, artistic color—it's all in play. But creating those looks can create dry, damaged hair. How? Let us count the ways, with the help of our own Madison Keene, Not Your Mother's in-house chemist.
1. HOT LOCKS
Heat styling from flat irons, curling wands and blow drying is one of the most damaging things you can do to your hair. There's water vapor inside the hair shaft, and high heat can turn that vapor into superheated steam. The steam needs somewhere to escape, so it'll often cause the cuticle to blow out, leaving behind breakage and split ends.
Madison says: To alleviate some of the heat damage, wait until your hair is mostly dry before using the blow dryer, and make sure to coat the hair with a heat-protectant before drying. Heat protectants work to absorb and re-distribute the heat evenly along the hair shaft, helping to avoid any unnecessary damage.
Use these: We love Royal Honey & Kalahari Desert Melon Leave-In Conditioner for dry hair and Way to Grow® Long and Strong Leave-In Conditioner for damaged hair. And if you want to forego all heat tools but still get out the door in time, our Part-Time™ Air Dry Accelerator speeds up drying without any heat at all.
2. KEEPING IT CLEAN
Another culprit is being too clean. We've been conditioned (get it?) to think a daily wash is good for our hair, but really, it can lead to dryness and damage.
Madison says: Healthy hair has an entire layer of oils—called a lipid layer—that encompasses and protects your hair strands. That's what makes the hair shiny and healthy. Shampooing too often with harsh detergent systems may strip those naturals oils.
Use these: One way to keep those lipids healthy and intact is to limit your shampooing, and when you do wash, use a good sulfate-free shampoo-then-conditioner combo (try Way to Grow® Long and Strong hydrating shampoo and conditioner), which is gentle on your follicles and protective of those delicate strands. To perk up hair in between washes, try Clean Freak® Unscented Dry Shampoo.
3. PONYING UP
If your go-to 'do is, say, an Ariana Grande-style high ponytail—you'll want to switch that up to a different style. Binding your hair too tightly in the same place on the regular can break it. Go as loose as you can with your elastic, and try to hold the hair in a different place each day.
Madison says: To further avoid mechanical damage from combing and brushing, take your time and work from the ends first to gently move any tangles along.
Use this: Your hair will thank you for using All Eyes on Me™ 10-in-1 Hair Perfector.
4. NEW HUES
And finally, one sure-fire way to permanently damage your hair is to color it. Traditional dyes lift the cuticles that make up the outermost layer of each strand of hair. This cuticle layer resembles roof shingles. Once those shingles are opened, the dye molecules make their way through the gaps to deposit into the strand. The final step of coloring then works to close those shingles and seal them up the way that they were before.
Madison says: You've chemically altered the structure and there's no way of going back. It's like when you squeeze the toothpaste out of the tube, you can't put it back in and expect it to be identical to what it once was.
Use these: Temporary dyes or conditioning color creams that don't lift you color will be much kinder to your hair. You'll also love our Blonde Moment™ or Triple Threat Brunette™ product lines to maintain and enhance color.
Regular Care Makes Better Hair
It sounds like there's a lot stacked against us in the fight for healthy hair, but it's not that complicated.
Regular trims help—even if you're growing out your hair—because split ends may worsen when left unchecked, like a run in a stocking.
One of the best things you can do to ward off dryness and damage is to use products that "stick" to your hair and protect it. Not Your Mother's hair care products are specially formulated to make hair silkier, so hair won't break as easily when you comb and brush it, and your hair is better protected against heat.
Madison says: One of the best ways to take care of your hair is to leave it alone and let it do its thing. Give it a rest every now and then, and embrace your natural style. Your hair will thank you.