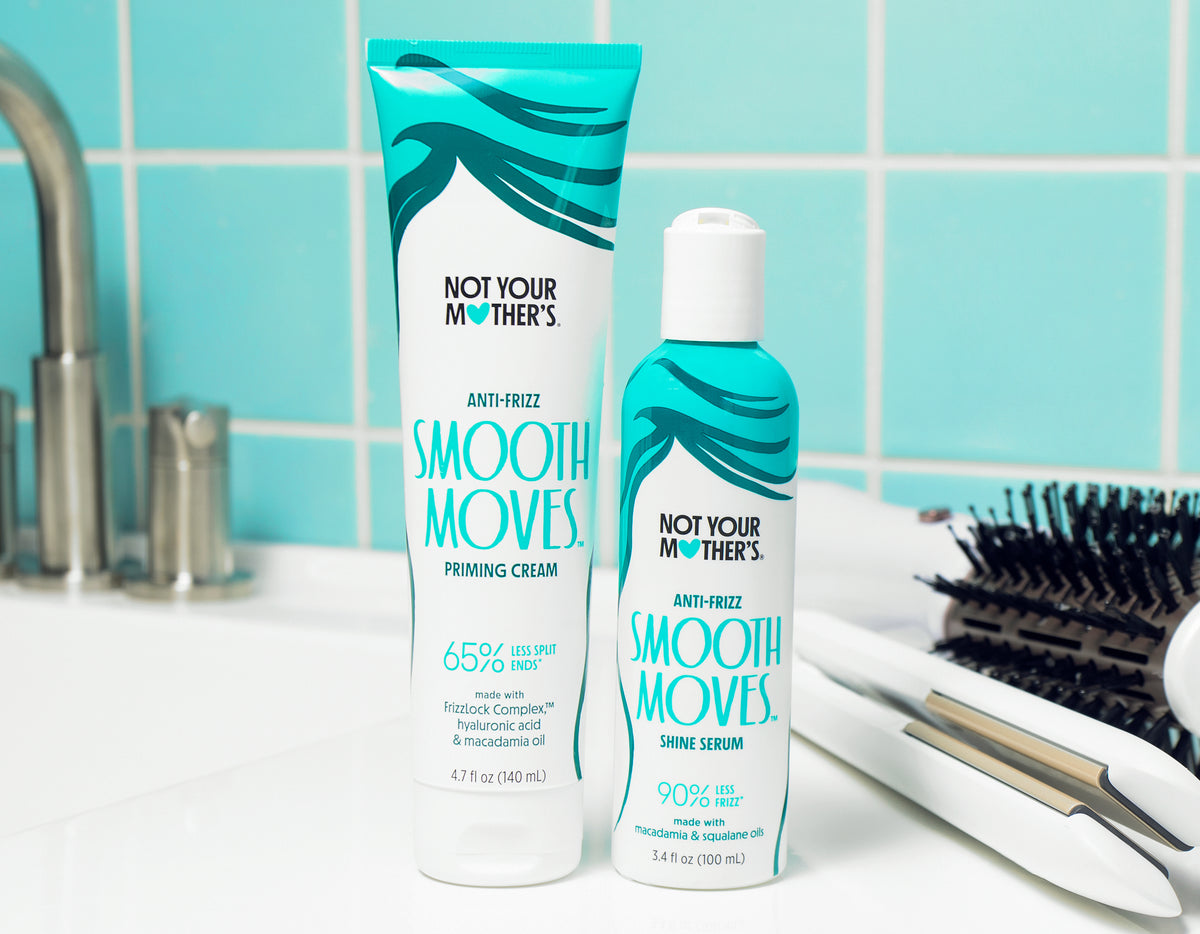 Let's Discuss the Blunt Bob and Structured Shag Trends
After years of identically straightened tresses, hair is all about texture this season. And we haven't even discussed length yet. Spoiler alert: Almost anything goes, as long as you add a bit of lift and lots of volume. But first, what's a blunt bob or a structured shag?
What's a Blunt Bob? 
Believe it or not, bobs are not a one-size fits all hairdo. From longer bobs – aka the lob—to choppy layered bobs, every hairdresser has their unique take on the classic. This season, a blunt bob with straight layers that are the same length all around is the trend of the moment.
How to style a blunt bob
If you're up for the task, a great haircut should leave you without a ton of stress when it comes to styling your straight hair. 
The key to keeping a blunt bob looking salon stylish is to ban frizz and increase shine. Here's how.
Shampoo and condition your hair using Smooth Moves products.
We love the way Smooth Moves Hair Priming Cream protects hair from heat styling while adding the look of a glossing product. Apply a nickel size amount to your palms and smooth through your hands.
Run your fingers evenly through hair until you've evenly distributed the product.
Feel free to add another tiny drop to the ends of your bob.
Heat style or let air dry.
Structured Shag hairstyle:
Some background on shag haircuts: A shag haircut is a throwback to the '70s meant to add volume. This rock-star-inspired look has loads of layers all around the top and sides of your head, while the ends are thinner or wispier.  One of the reasons shag haircuts keep coming back in style is that it's a look that works as well with curls as with straight hair and looks super cute on short, medium or long locks.
How a structured shag is different: Unlike a traditional shag haircut which embraces loose layers and not much styling, a structured shag is almost architectural. Your stylist may discuss specific length with you and cut layers in a more measured way instead of allowing your layers to randomly floof around your face. 
Styling your structured shag: The fun thing about a structured shag is that you can create defined hair areas. This can be in the form of adding a spikey section to your fringe, or free form waves with a very defined edge.
Stylers for your structured shag 
Unlike very defined hairstyles, you can play around with your structured shag to create a new look to match your mood. The experts at Not Your Mother's recommend using the Beach Babe line of products for looser waves and less definition. The Curl Talk collection will help you to maintain shinier, more defined curls.
Here's how to style your structured shag:
Beach babe waves:
Whether you intend to create a mini spa visit in your own shower, or only have time for a quick spritz of dry shampoo before heading out, there's a Beach Babe product just for you.
Wash and condition your hair with your favorite NYM line of products.
Towel dry hair by blotting instead of rubbing. This will keep your hair looking smoother and will cut down on any potential frizz.
Decide whether you want to amp up the texture with Beach Babe Sea Salt Spray Texturizing, or prefer soft waves. Both Beach Babe sprays are vegan, gluten-free, sulfate free, and created to add a bit of zing to your style.
Skip the roots and start spraying on damp or dry hair starting at the mid-length through to ends.
While you're at it, skip the blow dryer as well and scrunch hair to create waves throughout your shag and let air dry.
Shag + curls? Yes, please!
We're incredibly excited that curly hair is back in a big way. If you love the look of a shag and want to add some bounce, we've got you covered.
Since curly girls need some extra TLC, our entire Curl Talk line is formulated to moisturize and build your hair from within. We recommend using our Curl Talk Bond Building Mask and Curl Talk Bond Building Conditioner at least once a week to strengthen the core of each strand. But back to creating a structured shag complimented by copious curls.
Wash and condition your hair using your favorite products from Not Your Mother's Curl Talk collection.
We love the way Curl Talk Activating Mousse creates oversized curls while leaving hair extremely touchable. We also love the fact that it's silicone-free and protein free. Shake vigorously and turn the canister upside down. Spritz a golf-ball-sized amount of mousse into your palm.
Start at your roots and work the mousse all the way through your hair, creating more defined curls as you go.
Feel free to be playful with your curls, pulling out curls toward the ends of hair and keeping them tighter closer to your brow line.