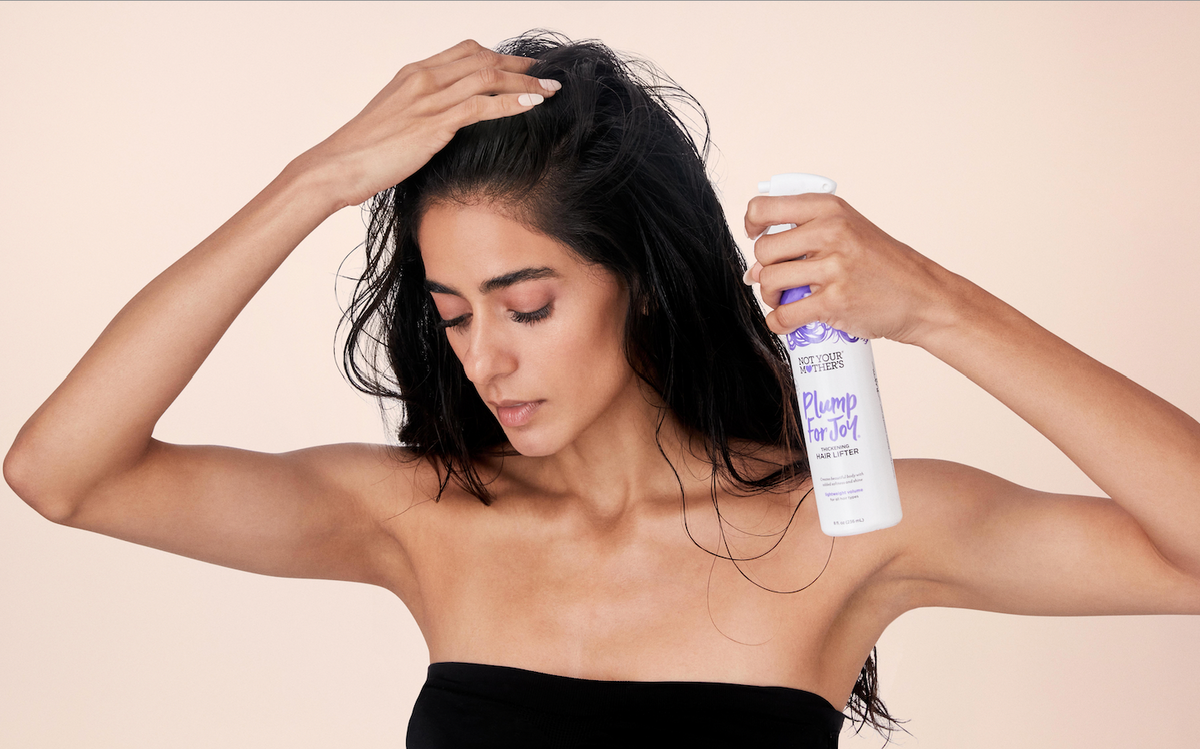 Whether you plan on going all-out glam this holiday season or prefer your look a bit more subtle, there's one thing you should know: great big hair enhances nearly every look for the holidays. But it can be hard for some to get that perfect pouf. Maybe your hair is a bit too thin or oily.
Related: How to manage your oily hair
Now don't fear if your locks are on the skinny side, we have some great tips to bounce up the volume in even the most baby-fine hair.  
This time around, we're focusing on the ways Plump for Joy Thickening Hair Lifter can add volume, texture and interest to even fine or flat hair.
Messy braids get a makeover
If you're like us, you've spent endless amounts of time watching TikTok videos of people with incredible hair creating the most gorgeous braids. One trick we love is when they pull a bit and suddenly the perfect plait looks three times thicker.
Get the look:
We love puffy braids for the holidays and they're really easy to achieve. First off, choose cute and sparkly hair ties or elastics that will add a bit of holiday bling to your 'do.
Start with damp or nearly dry hair. Spray Plump for Joy Thickening Hair Lifter into the palms of your hands and rub through. Then using your hands, run your fingers and hands through your hair and make sure to distribute the product evenly. Loosely braid your hair and secure with a sparkly elastic band. Then gently loosen each visible section of the braid (and on each side) to create a wider version of your braid. Don't worry about perfection, this is supposed to be a messy, sexy look. Keep gently pulling until your braid is wider and messier.
Bobble Ponytails
You don't have to head to a salon to add volume and cute to your hair over the holidays. A few well placed elastics will have your hair looking cute and volumized in minutes.
Get the look:
Pull the top quarter of your hair up and work some Plump for Joy Thickening Hair Lifter into the palms of your hands and rub through. Create a half up/half-down look and secure with an elastic or cute ponytail holder. Pull a few more pieces of hair from both sides and secure with another sparkly elastic. Continue on every half inch or so if you want a micro-bubble look or every inch or so if you want a more classic look. Continue until you've reached the nape of your neck and secure your remaining hair into a ponytail.
Similar to the braided style above, gently loosen each section of the ponytail until you've created a "bubble" effect between each elastic grip. You can slick through a bit of Smooth Moves Hair Shine Serum on just the ponytail section to remove frizz and dial up the shine.
Pouf like a princess
If you're a fan of Catherine, the Princess of Wales (Princess Kate, to you and me!) you'll know that she's recently started wearing her hair with even more volume than ever. Her look is both classic and incredibly chic. More than that, Princess Kate has found a way to keep her look consistent while playing with the texture of her stunning brunette locks.
Get the look: 
A great trick for all-over volume is to start with your roots. Even if you don't have time to wash and blow out your hair before the family comes over for a holiday meal, you can give your roots a quick rinse. Pat dry and use a cool setting on your blow dryer while lifting hair with a round brush with a large barrel. Spray some Plump for Joy Thickening Hair Lifter on just the tips of your fingers (where your fingerprints are!) and run your fingers through the roots of your hair lifting as you go. A quick spritz of She's a Tease Volumizing Hairspray will seal your style and volume.
Pro tip: Lift the top layer of hair with a comb and spray She's a Tease from about three inches away from the roots. Make sure to spray underneath to set in the volume.