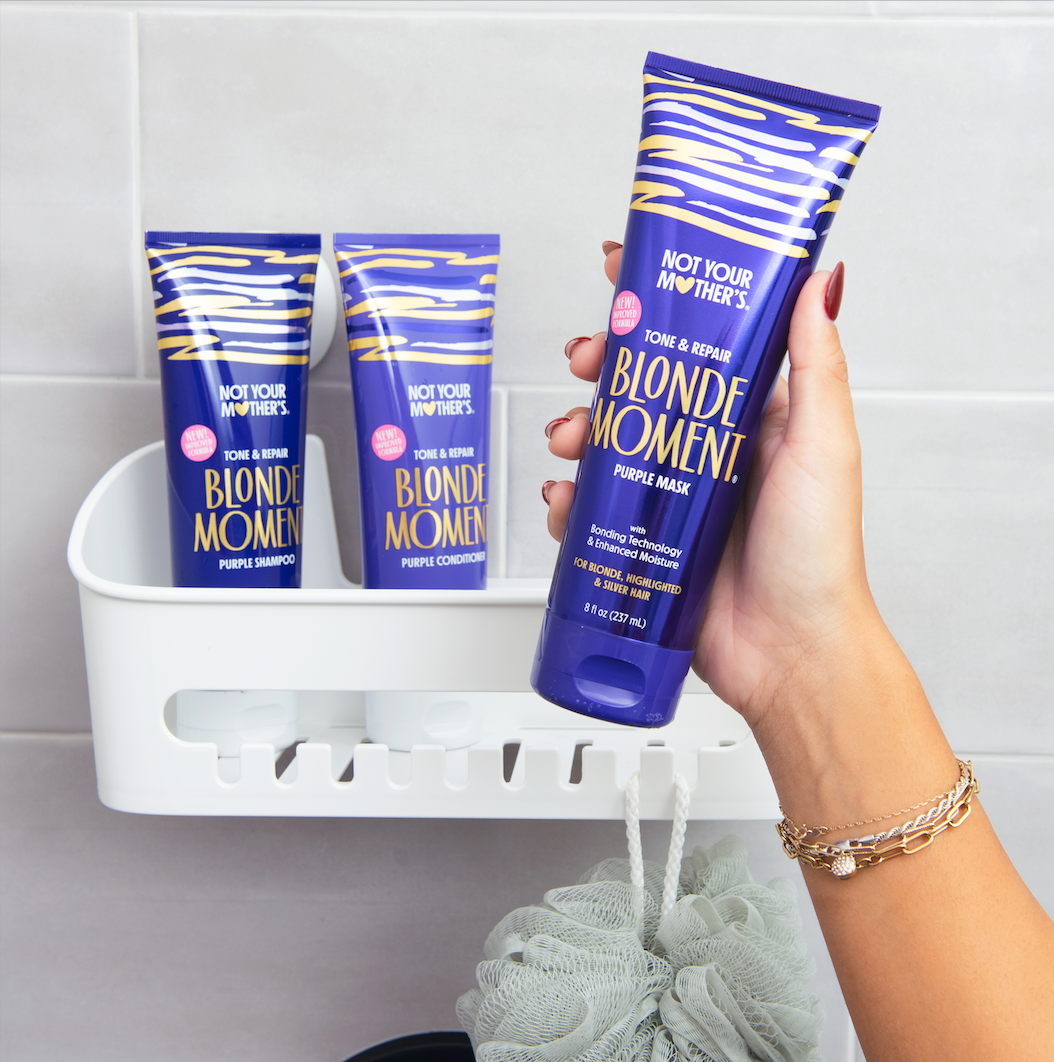 From Marilyn Monroe to Farrah Fawcett to Gwen Stefani, Taylor Swift, and Blake Lively, blondes have always had an irresistible appeal. What's less obvious than the buttery hair color is the time, energy, and products that go into creating and maintaining the most perfect blonde hair color.
To make it easier to keep blonde hair looking shiny and fantastic while avoiding brassiness, we created an everything blonde tutorial.
A note about purple products:
You'll notice that all the products in the Blonde Moment collection have a distinctive purple hue/ That's because they're infused with water-soluble purple pigments. Those pigments have a specific use. When deposited onto hair, these purple pigments work to reduce yellow or brassy tones for natural or dyed blondes. As an added bonus, our purple products punch up the color in highlighted and gray hair while eliminating the brassiness that can be caused by mineral deposits in the water or too much sun.
Related: If you want to go a bit deeper into how to best protect blonde, gray or highlighted hair, you can read up on our guide to purple shampoo – what it is and why you need it.
Brush up on your blonde basics:
If you're not sure which Blonde Moment product to use first, we created an easy-to-follow guide and styling routine for Not Your Mother's Blonde Moment collection.
Shampoo for you:
The first step is to wash your hair with a shampoo formulated for your blonde hair (natural or dyed, we'll never tell!) Blonde Moment™ Shampoo can be used every single time you wash your hair or as a substitute once a week. Only you know how much extra attention your hair or highlights need. You should know though, that the more often you wash your golden locks, the sooner it might become brassy looking.
If you swim in a chlorinated pool, try pulling your hair up into a high ponytail so that the ends of your hair aren't dipped in the pool water while you swim.
Tame oily roots with dry shampoo:
Whether you're in between blowouts, or your roots are starting to show, Blonde Moment™ Dry Shampoo can add volume to flat hair, keep hair from looking greasy and add a golden glow.
You can also use our dry shampoo as a styling tool. Separate your hair into sections and spray roots with Blonde Moment Dry Shampoo. Gently use your fingers to blend the dry shampoo into your roots while building volume as you go.
Read our guide to everything you need to know about dry shampoos. And in case you didn't know it, we have seven amazing formulations:
When only a mask will do:
No matter how much you pamper your tresses, there are times when they'll look dry. Like, really dry and looking like straw. Before you grab a pair of scissors and try to snip off any damaged ends, you should first try a very deep conditioning treatment instead. Our Blonde Moment Purple Mask not only works to repair parched hair, it actually helps defend against future damage.
Use once or twice a week, or when your blonde hair looks like it needs a boost. If you plan on spending a lot of time lounging by the pool, consider a preemptive move. Wet your hair from roots to tips and apply a generous amount of our purple mask. Cover your hair with a cute kerchief or a giant sun hat and allow the mask to really penetrate deeply while tackling the look of brassiness and hair damage. Make sure to rinse your hair well in the shower afterward.